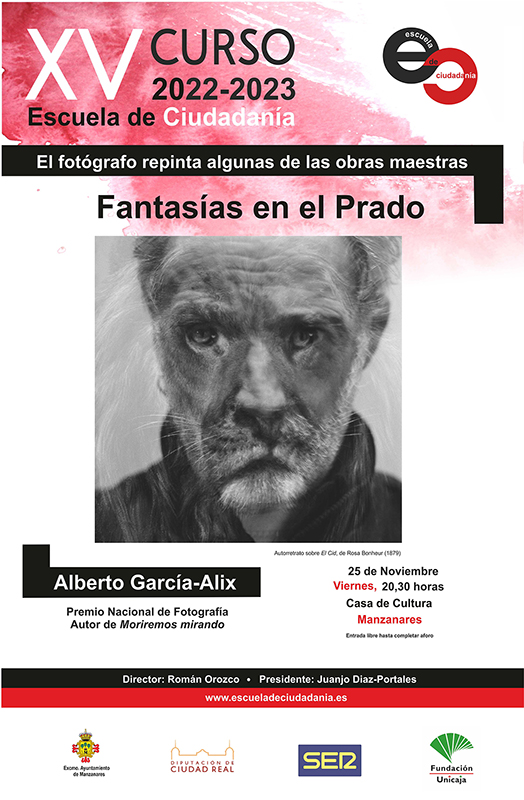 24 Nov

Alberto García-Alix participates in the XV course of Escuela de Ciudadanía

On Friday, November 25, Alberto García-Alix will give a talk at the XV course of  Escuela de Ciudadanía (School of Citizenship), a non-profit cultural association created in 2008 at the initiative of the journalist Román Orozco. Based in Manzanares (Ciudad Real), nearly a hundred professionals from the world of arts, teaching, politics, journalism and the judiciary have passed through the School's classrooms to reflect on citizen commitment through their lives and works. Among them, writers like Almudena Grandes, Luis García-Montero or José Manuel Caballero Bonald; musicians like Miguel Ríos, Víctor Manuel or Pedro Guerra; journalists like Iñaki Gabilondo, Pepa Bueno or Carles Francino; cartoonists like Forges or El Roto; politicians like Josep Borrel, Carmen Calvo or Carlos Solchaga; and also the judge Baltarsar Garzón.

In his intervention, García-Alix will speak and show his latest exhibition work, Fantasías en el Prado, a collection of photographs taken at the Museo del Prado where the photographer has managed to create his own imagery, based on paintings of the museum, using the technique of multiple exposure on analog film.

This work that was exhibited in the summer of 2022 at the Botanical Garden of Madrid, on the occasion of the XXV edition of the PhotoEspaña festival. For the realization of the series Fantasías en el Prado, García-Alix says that he has looked in communication with history, politics and art: "I have appropriated time, light and brushstrokes. I have taken those of their authors. Those of Goya to repaint his half-buried dog, those of Velázquez to redo Las Meninas, I have watched over the Mona Lisa under a terrorist stain of white paint, I have taken over Rubens's frenzy to capture what he did not dare to paint on his time, and I have self-portraited with a beast mask with the help of Rosa Bonheur… Nothing is valued, nor comparable with the emotion that I have felt working with the paintings".

This will not be García-Alix's first visit to Manzanares. 37 years ago, he traveled to photograph the model Cristina Barrera, in the food market of this town of La Mancha, wearing a dress by the designer Manuel Piña, a native of Manzanares. Piña asked him to photograph his 1985 collection and as a result of that job, they became great friends. In the museum that the town has dedicated to Piña, you can see some images of the Leonese photographer.