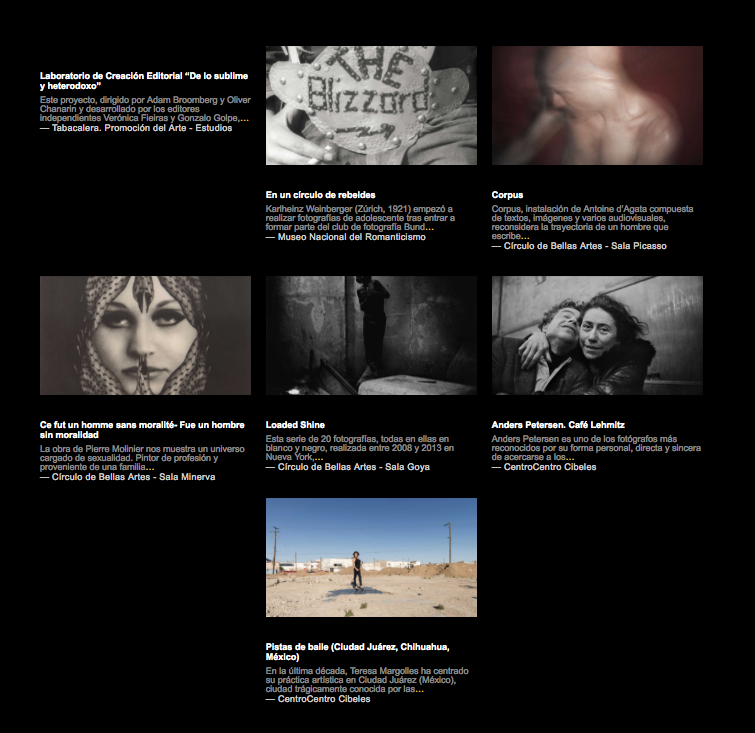 01 Jun

ALBERTO GARCÍA-ALIX CARTE BLANCHE AT PHOTOESPAÑA// SUBLIME AND HETERODOX
PHOTOESPAÑA GIVES ALBERTO GARCIA-ALIX CARTE BLANCHE TO ORGANICE 6 EXHIBITIONS
The exaltation of being, A heterodox gaze
By Alberto García-Alix
To paraphrase Lorca and to explain myself I will state that the sublime has no angel, it has an elf. Disconnected from reason, it nests in the guts and the soul is fed. The being. The feeling of the unique. Emotion as a blow. Thus it regurgitates as sensation or corporeal exaltation where pleasure and pain go hand in hand. It is an old romantic idea yet still current. Since the Greeks the idea of the sublime has possessed the virtue of the revelation that stirs and moves us. There is something very Baroque in it. Meeting and point of departure. Emotion and its threshold. Greatness. The shiver. The immeasurable.
Here we are also looking at the heterodox, not seen as heresy or disconformity, but as a work that lives outside the norms because it feeds off what is most intimate and passionate in the author. The being. The creation of the unique. On that horizon, as tense as stretched rubber, the work of these photographers we are presenting on this the twentieth anniversary of PHotoEspaña takes shape.
In the work of Paulo Nozolino, the passionate idea of pressence and its spectre are always seen from the vertical plane. A space where the line frustrates the horizon. It deepens it an places it before our eyes, obscuring the detail. In his images there is a destroyed whole that talks to us, that questions us. Like slow fire. The abstraction gains substance. We look at penumbra. The decomposition of an oppressed landscape. Reverberation of absence. The past inhabits it. Solitude of void. Anguish, tragedy and pain. Perhaps Nozolino began looking at the sky. An always heavy sky. His images seem to come out of dreams. Today, with this work, Loaded Shine, he subjects his gaze to the timelessness of what lies apparently dead. We see a world that continuously destroys itself. Like in that image that shows a bulb isolated in silence, where the light is wounded; or that other one that shows the feet of a dead donkey. With a flash and at midday. A vaporous and visible idea of death seizes us. Hearts in hand. We live in eternal decadence. 
Exaltation takes flesh as a catapult for the senses. In the work of Antoine d'Agata, it convulses and stirs us. Images and texts come to us like poundings of iron. They fall upon our flesh and provoke us. We feel dizzy. Abandonment is vital and fear constant. Cold or heat. Failure to meet as a future and the present lacerating the body. Antoine tortures it or deconstructs it, as if he were shaping clay. He imprisons it within limits that annihilate the most absolute intimacy. He places it before our eyes in a universe of the cage. Like beneath the canvas. With no surroundings nor temporal references. The obsession is the atmosphere and the febrile, the light. A flutter of religion. The violence of desire. Its penitence. The theatricality of revelation. Phantasmagorias. Apparitions. Or perhaps they are saints prostrate before the altar of the sense. Love and its violence. The bodies as stigma and dogma. There is neither return nor way out. Nor beautiful dreams. Nor any other path tan the inertia of the fall. Sublime work. It elevates the existential of anguish. Nausea. Chaos. Unease. Thus it vomits emptiness, the exhausted nature of existence.
Café Lehmitz, the masterpiece by Anders Petersen, possesses magic. It tricks us as soon as we come through the door. It hypnotises us. The atmosphere is supreme. Anders takes possession of the air. He submerges us in life. Gaze and throbbing of the anthropologist, of the naturalist. He does not judge. Nor does he add pretentiousness nor artifice to his gaze. The night and its journey. Like that of Céline, with the difference that in Anders's eyes there is no room for that pessimism. He is more clement. He is not a cynic. He wants them, he is an accomplice. He toasts and dances with them. He drags us to follow them. We end up getting to know them. His photography fuels them to be. He loves those who never show themselves. The invisible ones. We see Scar, a shirtless sword swallower in the difficult situation of getting himself into a mess. In the background, a record machine and music. Vices of love. Voices come to us. Ramona gives and seduces; Gretel asks… Tenderness pushes. Understanding. The equals share night and temple. They are penitent. Those of scourge and of joy. Solitude and failure. Sublimity. Café Lehmitz is a generous work of shared humanity. An unforgettable work. Tear-jerking. I am a witness. 
We also show the images that Anders highlighted and marked on the contact proof sheets, of the period. With signs, signals and colours. They have lost that original intention of standing out and of status, their Morse code, their meaning, but they have gained the gesture. The footprint. The pride of ingenuity. Their power. Graphic and plastic. 
Now let us put on dark sounds. Mute. The hidden spirit. Disguise. Voyeurism. Pierre Molinier and his work are fed by Eros. Constantly seduced by the double or by himself, he cross dresses. Love is made. He is possessed. He looks like a doll in the skin of other bodies. He is Pierre. Dark stockings. Painted paper. Shoes. Fetishism. Profanation and its lofty pleasure. We are looking at the work of a great storyteller. An independent. An individualist with the female as an obsession and belonging. A heterodox and radical gaze that seeks its most intimate territory for creation in the figuration of desire. It feeds off a Gothic Modernism. A shameless giving of oneself and narcissism as a multiplying mirror. It is given neither prohibition nor censorship. It is just play. Androgynous sex. Without hairiness. Symbolic hermaphroditism. In his images we see him smile, with sharp teeth. Hieratic and rabid as if he were a cannibal, he hides behind a mask decorated with cuttings. Entwined bodies. A man who on the fictitious cross of his tomb wrote and photographed the epitaph "Ce fut un homme sans moralite" ("I was a man without morality"). He accepts his cause with this lucidity. He seeks neither glory nor honours. He looks obscene. Perverse. Like a flasher opening up his mackintosh. "Mise en scène" and cold light. A cabinet of morbid curiosities. Mystery, sexuality, fantasy. Thus the surrealist aspect of his work is evident and far off at the same time. Even for his death, prepared and carried out by his own hand. "Je me tue" ("I kill myself"), he left in the note. Fierce hedonism and independence.
For Karlheinz Weinberger, working at a store in Zurich for over thirty years, photography was the key to liberation from a dull life. A heterodox. I sense great shyness in him. His first photos are published under the name Jim' in the homosexual magazine "Der Kreis" (The Circle) at the end of the nineteen fifties. A self-taught author, photography brings him close to a world that enchants him: young rebels. The new barbarians. Rockers, bikers, lovers or rent boys, his naïf gaze captures them. The lice-infested, "Verlausten", is the first young group he photographs. Then, like in the game of snakes and ladders, some lead him to others and they end up going to the mythical salon in the house where he lives with his mother. He will never be one of them, but he is with them. He is not a bold man, rather a loner who due to an obsessive fascination takes photographs from Friday to Sunday of a unique imaginary of identities and attitudes. Also their symbols and medals. Leather jackets with their vests and colours. Chains with Elvis's face on them. Carved belts. Zippers sewn with nuts and bolts and even the phalluses they hide within. This so voyeuristic and intimate part of his work will take on a ritual spirit with time. For a decade, Alex, one of his models, would come to his house. An intimate and ceremonial photographic encounter that we are showing in a work held and assembled by two of his friends from his images.
Teresa Margolles takes the mannerism of death and its gore as an expressive seed. It must be said: besides being an eclectic creator, she studied to be a coroner's technician in Mexico. That is how it started. Placing science and light on the causes of death. Crime as a window. Thus her work always places its stress on violence. She places it on its cruel nature as if rubbing against it. Crisis and dismembering. Politics and decomposition. Violence and death. She takes these tragic destructive presences out of their hidden and peripheral space and installs them with skin and fluids into our space so that they may work and breathe like denunciation and trace. One senses her intimate understanding of the terrible. Also her fury. Her work screams at the silence and at the trauma of disappearance and its randomness. And rightfully accuses and confronts the political powers with that reality of morning and grief that it has created and that it even encourages. She also questions our understanding and even our hypocritical sensitivity. She calls us into question for neither seeing nor taking any position when faced with social or gender injustice and the aggression attached to it. Teresa Margolles well knows the tissue of blights and poisons of the system and their presence in death. As an artist she uses photography, the installation, performance and video to explore and conceptualise its irrevocable and violent presence. Thus the sublimity and the disturbing and solemn nature of her work.
To finish raising the idea around the sublime/heterodox, we set up a creation laboratory. A space where a group of invited creators interact, seeking to make visible and materialise the subjectivity of the concept. Headed by Adam Broomberg and Oliver Chanarin, they are not given any rules nor are paths set out for them; they are moved by the desire to bring action and reflection to new proposals for photography publishing. The extroverted. The epic journey of the Self and its consciousness is always the territory of creation. 
Anders Petersen, Pierre Molinier, Antoine d'Agata, Teresa Margolles, Karlheinz Weinberger, Paulo Nozolino, Adam Broomberg and Oliver Chanarin produce a work outside of orthodoxies where emotion is everything. They take their great strength from their capacity for transmission and empathy. Like a spark. An intense current of excitement. We convulse. We fill ourselves with resonances. The comprehension of the universe as the last act. That is the great subliminal power that art has. The exaltation of being.